School of Oncoplastic Surgery, American Society of Breast Disease – Dec 2009 Oncoplastic surgery
Oncoplastic surgery of the breast is an innovative approach to the treatment of breast cancer. The word 'oncoplastic' is derived from the Greek words 'onco' (tumour) and 'plastic' (to mould). The concept encompasses the use of plastic surgical techniques in order to reshape the remaining breast or reconstruct the breast after appropriate excision of breast cancer. The result is "seamless" specialist breast cancer surgery in which ablation of the cancer is merged with reconstruction. This obviously requires very careful planning, and the delicate balancing of oncological needs with aesthetic aims.
In a typical lumpectomy the surgeon makes an incision, scoops out the cancerous tissue and then closes the opening. This can often leave the breast with a disfiguring dent and there is a growing awareness that we haven't always done as good a job as we should in offering aesthetic options to breast cancer patients in this situation. In fact, a recent study showed that around one third of patients are unhappy with the cosmetic outcome of their breast conserving surgery. Aesthetic Surg J 2008.
If you are faced with having to have breast cancer surgery, the aesthetic (cosmetic) outcome may well be the last thing on your mind. It is however accepted that any deformities are best treated at the time of original surgery for breast cancer excision. This is because it is more difficult to correct a deformity, especially after radiotherapy to the breast, than to prevent it, and also because the results of secondary corrective surgery are often not as good.

Oncoplastic breast surgery is a new and rapidly growing field of surgery and the number of surgeons trained in, and using oncoplastic techniques in Australia is currently low. There is no professional certification for oncoplastic surgeons, so patients should inquire about practitioners' training and experience.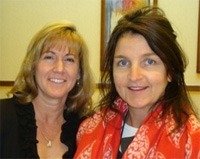 Miss Jane O'Brien is one of a limited number of Australian breast surgeons experienced in oncoplastic techniques. She gained extensive surgical experience in breast reconstructive techniques during her eight years of breast surgical practice in the United Kingdom and has retained a very strong interest in this evolving field since returning to Australia. She has extensive experience in "oncoplastic" techniques and a significant proportion of her surgical practice is made up of oncoplastic procedures.
The American Society of Breast Disease (ASBD) held its third annual School of Oncoplastic Surgery (SOS) in Dallas, Texas in December 2009. The American Society of Breast Disease, of which Jane O'Brien is a member, is the leading professional medical society in the United States to bring together physicians and allied professionals committed to an interdisciplinary team approach to breast disease management, prevention, early detection, treatment, and research.
The three-day SOS comprehensive course provides essential skills for breast surgeons through lectures, case presentations, and importantly and uniquely, hands-on operating-room learning with cadavers at the cadaver laboratory at Baylor Medical Center at Frisco, where the surgeons practice operative techniques as well as preoperative marking with live models. Pictured above with Jane O'Brien is course director, Gail Lebovic, the current president of the American Society of Breast Disease. Below left with Jane O'Brien at the cadave r lab is faculty member, Benjamin Anderson, past ASBD president and pictured at bottom is Los Angeles plastic surgeon Joel Aronowitz also at the cadaver lab.
Jane O'Brien attended the SOS (School of Oncoplastic Surgery) with the aim of further consolidating her knowledge in this fascinating area of breast surgery. The course was fantastic. Some American plastic surgeons are sceptical of on coplastic courses of this type, and certainly to imagine that a breast surgeon without any prior training in the area, could learn how to do complicated plastic surgical procedures on a three day course is unrealistic.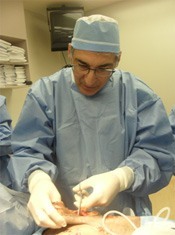 What can be achieved depends very much on the delegate's baseline level of experience. Some of the simpler techniques aren't all that difficult and can be quickly adopted. For example, even to start using incision techniques that give patients better cosmetic results is something that the beginner can take on board, and for the more advanced attendee such as Miss O'Brien there are literally a multitude of valuable tips.