Oncoplastic Breast Surgery Workshop, Brisbane, May 2016.
BreastSurgANZ held a one day Oncoplastic Breast Surgery workshop prior to the Annual RACS Annual Scientific Meeting meeting in Brisbane in May 2016, at which Jane O'Brien was a faculty member/lecturer.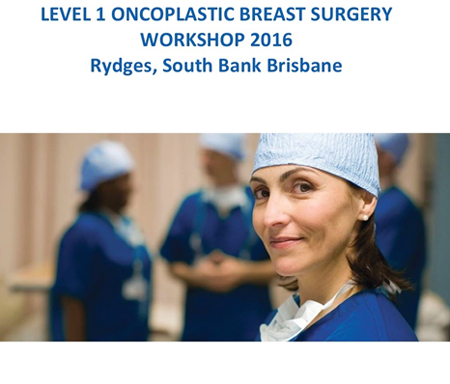 Oncoplastic Breast Surgery (OBS) is a combination of optimal cancer surgery with traditional plastic surgical techniques to achieve the best oncological and aesthetic outcome after breast surgery, including reshaping of the breast after lumpectomy. The aim of oncoplastic surgery is to improve women's long term quality of life and body image after breast cancer treatment. In recent years there has been increased interest in oncoplastic surgery in Australia and New Zealand and BreastSurgANZ has committed to offering an educational program to meet this demand. The interactive workshop focused on breast conservation therapy, with lectures, video sessions, case discussions and also demonstration of marking up on live models in smaller groups.