Breast Cancer Clinical Guidelines
Breast Cancer Clinical Practice Guidelines, Consensus Documents and Position Statements
Over time, some areas of breast cancer management may go through a phase of rapid change, whilst others may remain relatively constant over that time. Changes may occur as a result of the introduction of newer drugs or operative techniques. Most significant changes in practice come about following randomised trial evidence demonstrating efficacy.
From the maximum tolerable to the minimum effective treatment, it is essential to escalate treatment when necessary, and to de-escalate when unnecessary. The most significant changes in breast cancer surgery and radiation oncology in the recent past involve "de-escalation", the aim of which is to protect patients as much as possible from unnecessary morbidities of treatment, and to make treatment more tolerable.
For example, instead of the previous 25 or 30 fractions of postoperative radiation after surgery for early breast cancer, which was administered over 5-6 weeks, it is now fairly standard that "hypofractionated" radiation courses are recommended in most cases, which usually involve 16 fractions over around 3 weeks, which proves much more convenient for patients.
In breast cancer surgery, there is no benefit to patients in removing all the lymph nodes under the arm (axilla) if there is no tumour in any of the nodes, and performing an axillary node clearance in this circumstance exposes patients to potential long term sequelae such as lymphoedema, for no potential benefit. It is therefore standard that sentinel node biopsy is undertaken in women with unknown nodal status, both in the setting of primary surgery, and also following neoadjuvant chemotherapy. Similarly, in women who are node positive prior to neoadjuvant chemotherapy, particularly in cases of HER2+ or triple negative breast cancer, if there appears to have been a good response to neoadjuvant therapy, less than axillary node clearance is often recommended, with restaging of the axilla after treatment with sentinel node biopsy +/- targeted axillary dissection (TAD), which involves targeted removal of the node biopsied prior to neoadjuvant therapy.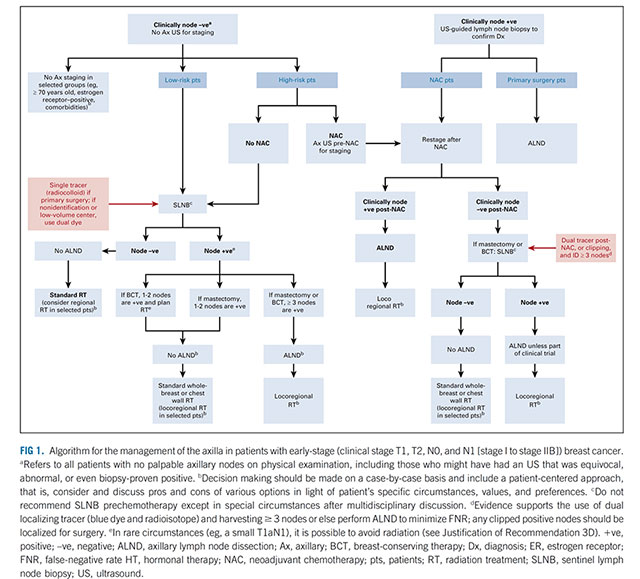 Algorithm for the management of the axilla in patients with early-stage breast cancer ASCO 2021
Traditional clinicopathological staging, taking into account the size and nodal status of the tumour, has become less influential than in the past in the development of systemic treatment recommendations, and with advances in the molecular classification of breast cancer, tumour biology is now a driving force. The treatment of HER2+ve breast cancer is for example, currently changing and evolving, with the high response rate to neoadjuvant therapy in HER2+ve disease, frequently allowing de-escalation of surgery in both the breast and axilla, at the same time as escalating systemic therapy, often with dual agent HER2 blockade with trastuzumab and pertuzumab, and the addition of postoperative, "adjuvant" trastuzumab emtansine for patients with residual invasive cancer breast cancers after neoadjuvant therapy.

Systemic therapy for HER2-positive or triple-negative breast cancers
St Gallen International Consensus Guidelines 2021
It is not practical for textbooks to be updated frequently enough to reflect current practice in all areas of breast cancer treatment, especially those that are in rapid evolution, and there are a range of practice documents that provide current, up to date information, including clinical guidelines, consensus documents and position statements.
Clinical practice guidelines, consensus documents and position statements are evidence-based or consensus-based documents developed to assist healthcare professionals and patients with decision-making related to screening, prevention and treatment of breast cancer, and to promote high quality and appropriate care. They are developed from the body of established literature complemented by expert opinion. A position statement provides a short summary of clinical issues in a specific area of practice and may be complemented by a clinical guideline. Clinical guidelines, are documents with the aim of guiding decisions and criteria regarding diagnosis, management, and treatment. They are based upon the best available research evidence and practice experience. They are developed by multidisciplinary committees or panels that follow a rigorous evidence-based approach, and are based on a systematic review of the available evidence, following transparent development and decision making processes. They are informed by the judgement of the evidence by experts, and the views of consumers and other people affected by the guidelines.
Clinical guidelines are developed for use by recognised health organisations such as colleges, professional societies or government. They have a limited life, and are reviewed for their currency and validity on a regular basis, and updated or withdrawn in light of important new evidence that may emerge. Because they are regularly updated, clinical guidelines, consensus documents and position statements provide the most up to date information on a given area of practice.
Below are breast cancer related practice documents for health professionals and patients from a variety of international organisations. For Advanced/Metastatic Breast Cancer Clinical Guidelines see Breast Cancer Recurrence.
United States
American Society of Clinical Oncology (ASCO)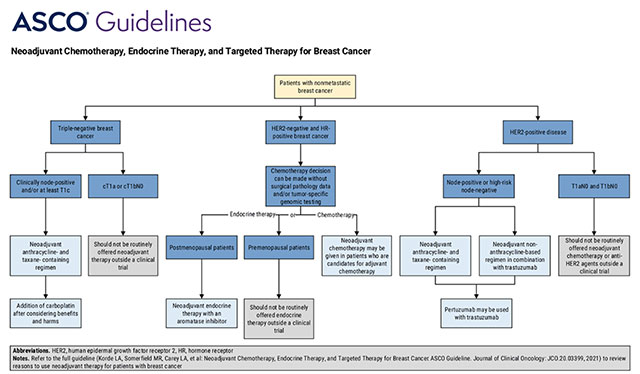 Neoadjuvant Chemotherapy, Endocrine Therapy and Targeted Therapy for Breast Cancer ASCO 2021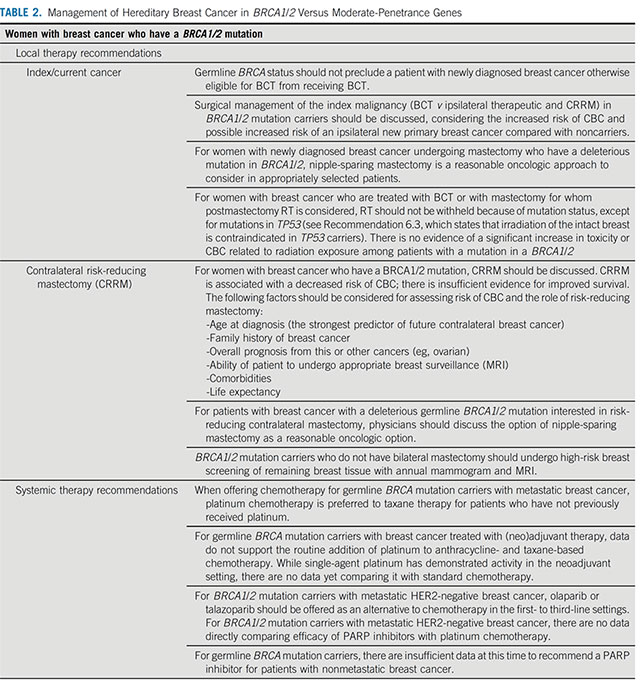 Management of Hereditary Breast Cancer in BRCA1/2 ASCO 2020
The American Society of Breast Surgeons (ASBrS)

Systemic Therapy in the Management of Hormone Receptor Positive Breast Cancer- Oncotype DX ASBrS 2019
National Comprehensive Cancer Network (NCCN)
National Cancer Institute (NCI)
The Society of Surgical Oncology (SSO)
American Society for Radiation Oncology (ASTRO)
American Cancer Society (ACS)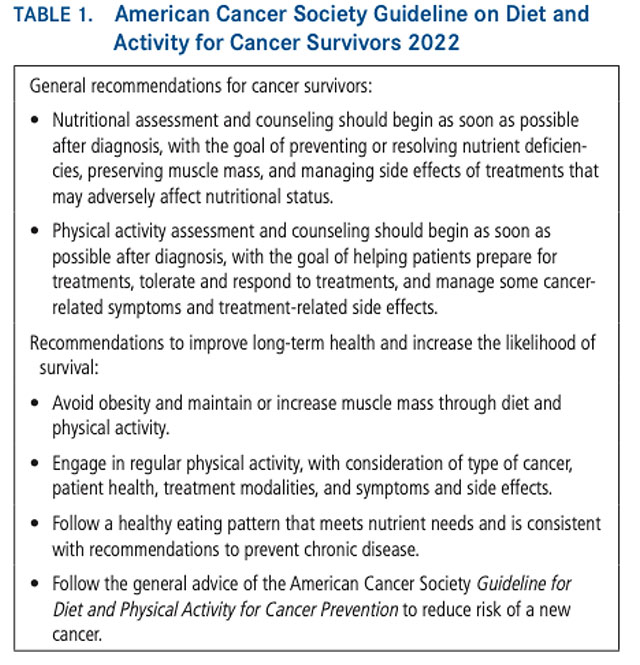 Guideline on Diet and Activity for Cancer Survivors ACS 2022
United Kingdom
National Institute for Health and Care Excellence (NICE)
National Health Service (NHS)
ABS/BAPRAS
Royal College of Radiologists (RCR)
Europe
European Society for Medical Oncology (ESMO)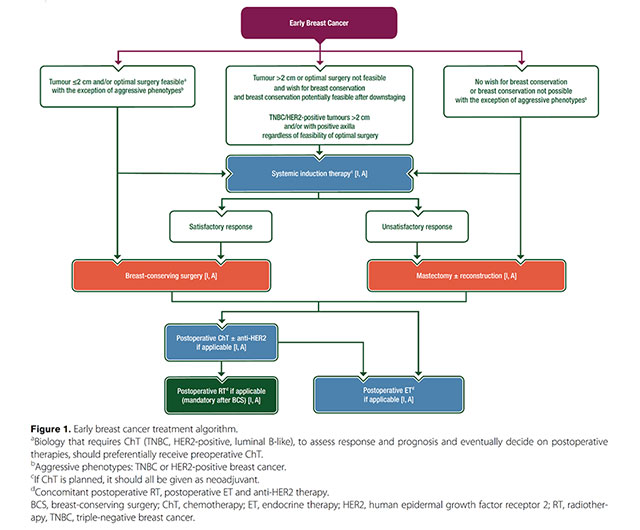 Early Breast Cancer Treatment Algorithm ESMO 2019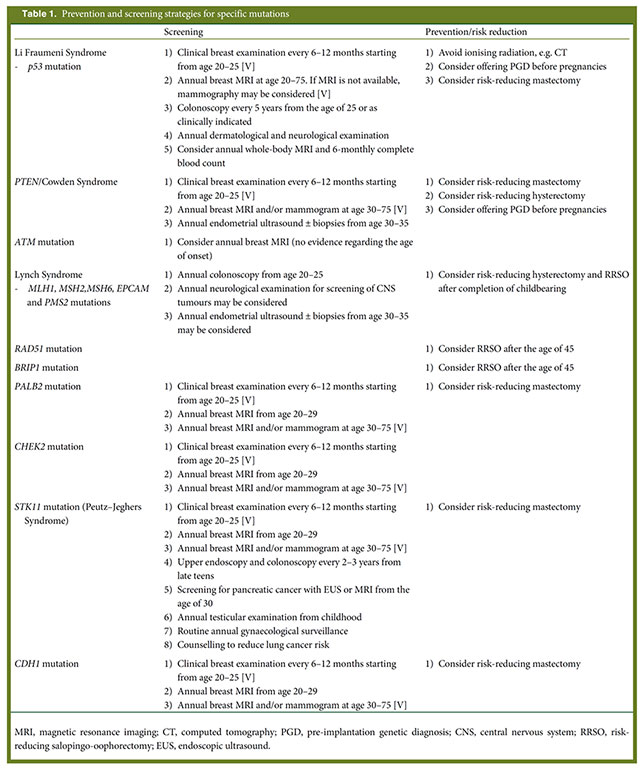 Prevention and Screening Strategies for Specific Mutations ESMO 2016
European Society of Breast Cancer Specialists (EUSOMA)
St Gallen
European Society of Breast Imaging (EUSOBI)
Australia
Cancer Australia
Clinical Oncology Society of Australia (COSA)
Guidelines for Patients
NCCN
NCI
ABS/BAPRAS
ACS
ESMO
COSA
Breast Cancer Care Pathways
Cancer Australia/Cancer Council