Videos
Lifestyle Factors and Breast Cancer
To mark "Breast Cancer Awareness Month" 2014, The Epworth Breast Service, conducted a forum on "Lifestyle Factors and Breast Cancer".
Evidence suggests that lifestyle factors such as moderate levels of physical activity can reduce the risk of recurrence of breast cancer by 24% and reduce the risk of death by more than one third compared with inactive women. This means for women who feel well enough, undertaking as little as 3 hours of physical activity such as brisk walking or cycling each week could help them stay healthy.Despite this, one in four women who have had breast cancer are not aware that lifestyle changes may significantly reduce the risk of breast cancer recurrence, according to a survey conducted by Cancer Australia and BCNA of women in Australia diagnosed with breast cancer. Additionally, the survey results showed that almost half of women who were aware of these lifestyle actions were not given information about this by any of their health professionals, so there is certainly plenty of room for improvement in this area, and ensuring all members of the health care team are educated about the importance of reinforcing lifestyle modification measures is a vital first step in the right direction.
To view a video recording of the event, press play (right).
Read More
First Scalp Cooling Machine in Victoria
Epworth Richmond is delighted to have recently acquired the first scalp cooling machine in Victoria. Although scalp cooling provides the only real alternative to hair loss with the use of many breast cancer chemotherapy drugs, it has until now not been available to women in Victoria.
Many women will lose their hair as a result of chemotherapy treatment for breast cancer and for some, this may be the most distressing side effect of treatment. "I didn't mind losing my breast as much as I minded losing my hair" is a comment we hear commonly. Currently, very few units in Australia offer scalp cooling, although it is widely available in the UK and Europe, and we are extremely proud to be the first Victorian centre to offer scalp cooling to our breast cancer patients.
Read More
The Angelina Effect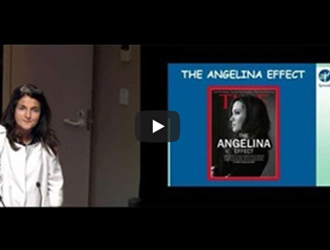 In what has been dubbed by Time magazine as the "Angelina Effect", actress Angelina Jolie's recent public announcement about her decision to undergo a preventive double mastectomy because of a faulty gene has attracted worldwide interest, focusing the spotlight on genetic testing and prophylactic mastectomy, and on a local level has certainly provoked many questions on both risk assessment and risk management.
In an attempt to address some of the questions that I as a specialist breast surgeon have repeatedly being asked following Angelina's recent announcement, such as "could I have the breast cancer gene", "should I be having genetic testing", and even "can I have an Angelina?" we recently held an educational forum for general practitioners. To view a video recording of the event , press play (right).