One Stage Direct-to-Implant (DTI) Reconstruction & Acellular Dermal Matrix (ADM)
IMPORTANT-PLEASE NOTE:
NONE OF THE IMAGES ON THIS WEBSITE ARE OF ACTUAL PATIENTS OF JANE O'BRIEN
THE IMAGES ARE PROVIDED FOR YOUR INFORMATION AS EXAMPLES ONLY
ALL IMAGES IN THE PHOTO GALLERY HAVE BEEN SOURCED FROM THE PUBLIC DOMAIN
JANE O'BRIEN FEELS THAT OUT OF RESPECT FOR HER PATENTS, PRE AND POST OP PHOTOS ARE MOST APPROPRIATELY SHARED IN AN OFFICE CONSULTATION AND NOT ON THE INTERNET. SHE IS HAPPY IF APPROPRIATE TO REVIEW RELEVANT DE-IDENTIFIED PRE AND POST OPERATIVE PHOTOS OF HER OWN PATIENTS IN THE PRIVACY OF HER OFFICE WHEN YOU MEET WITH HER
In addition to helping you see the results of a number of one stage direct-to-implant (DTI) reconstructions, before and after images can also be a helpful conversation starter and communication tool during your consultation. Keep in mind that each patient is unique and that results will vary. Once again also please remember that Miss Jane O'Brien feels that out of respect for her patients, pre and post-op photos of her own patients are most appropriately shared in a private office consultation setting and not on the internet. She will be happy to review pre and post-operative photographs of her own patients with you, if relevant, in the privacy of her office when you meet with her.
PLEASE NOTE: All images in this photo gallery have been sourced from the public domain.
For more information about one stage Direct-to-Implant (DTI) immediate reconstruction & Acellular Dermal Matrix (ADM) see: http://bit.ly/2n6yaTe and http://bit.ly/2oJlK45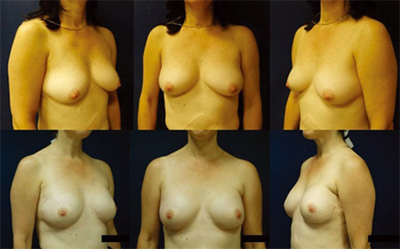 Preop (upper photos) BRCA1 gene carrier.
Post-Op (lower photos) Bilateral nipple-sparing risk reduction mastectomy using inferolateral inframammary incisions with one-stage DTI breast reconstruction using round 400 cc silicone gel implants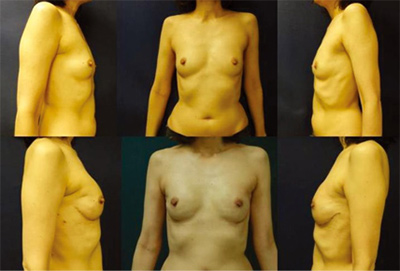 Preop (upper photos) 37 years old female- left-sided DCIS (ductal-carcinoma in-situ)
Post op (lower photos) Bilateral NSM for treatment and prevention. She desired to stay about the same size and had implants placed in one-stage DTI using inframammary (IMF) incisions.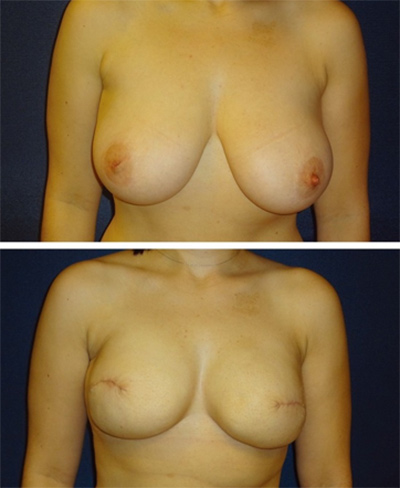 Preop (upper photo) 36 year old female BRCA1 positive
Post op (lower photo) She desired a slightly smaller size breast with more of an uplifted appearance and underwent bilateral skin-sparing mastectomies with immediate one stage DTI reconstruction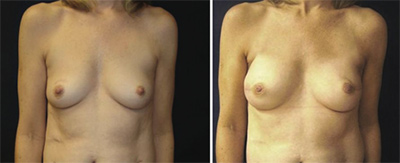 Preop (left photo) 42 year-old female-BRCA positive. Pre-existing incisions on both breasts.
Post op (right photo) The patient wanted to stay a similar breast size and desired a single-stage procedure. She had bilateral nipple-sparing mastectomies through lateral radial scars with immediate single-stage direct-to-implant (DTI) reconstruction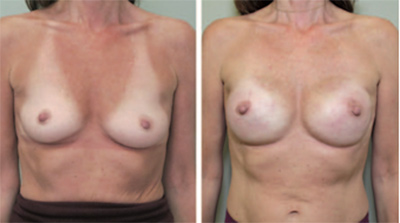 Preop (left photo) 46 year-old woman for bilateral prophylactic nipple-sparing mastectomy
Post op (right photo) Six-month follow-up after one-stage DTI reconstruction
Preop (upper photos) 38-year- old, BRCA-positive, with prior biopsy scar
Post op (lower photos) 6 month post bilat NSM with DTI reconstruction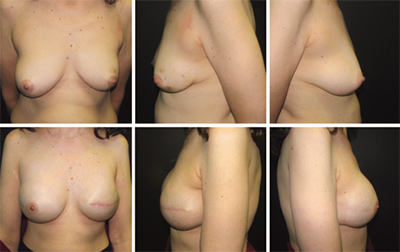 Preop (upper photos) 42-year-old woman with left breast cancer
Post op (lower photos) 6 week post op right nipple-sparing mastectomy (NSM) and left skin-sparing mastectomy (SSM) with bilat one stage direct-to-implant (DTI) reconstruction with acellular dermal matrix (ADM)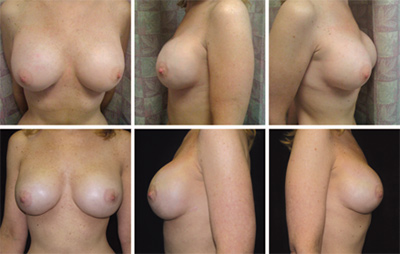 Preop (upper photos) 42-year-old woman with left breast cancer
Post op (lower photos) 6 week post op right nipple-sparing mastectomy (NSM) and left skin-sparing mastectomy (SSM) with bilat one stage direct-to-implant (DTI) reconstruction with acellular dermal matrix (ADM)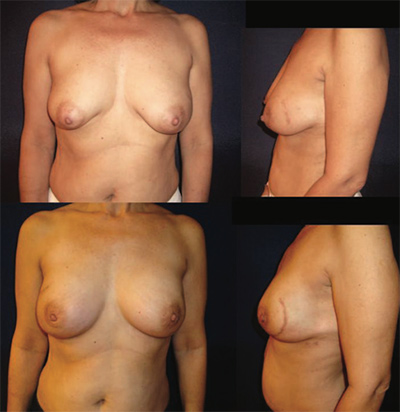 Preop (upper photos) 50-year-old woman-left breast ductal carcinoma in situ with a small area of invasive cancer /BRCA2 positive. Previous breast bilateral breast biopsies with lateral scars on each breast.
Post op (lower photos) 3 months post bilateral NSM with DTI reconstruction (450 mL silicone implants with AlloDerm) via preexisting lateral scars

Preop (left photo) Bilateral prophylactic mastectomy with immediate single-stage breast reconstruction
Post op (right photo) 6 months post op

Preop (left photo) Bilateral prophylactic mastectomy (NSM) with immediate single-stage DTI reconstruction

Post op (right photo) 1 year post op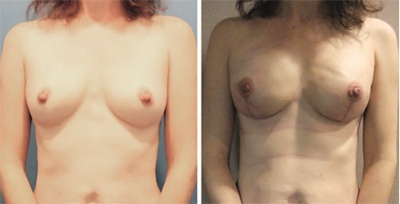 Preop (left photo) Bilateral prophylactic mastectomy (NSM) with immediate single-stage DTI reconstruction
Post op (right photo) 3 months postop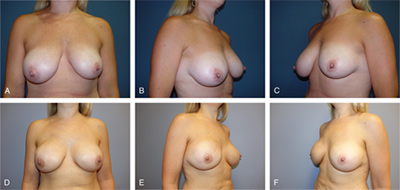 Preop (upper photos) 35 year old woman-BRCA1 positive
Post op (lower photos). Nine months post op bilateral prophylactic mastectomy (NSM) with immediate single-stage DTI reconstruction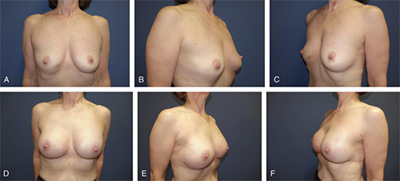 Preop (upper photos) 59 year old woman with invasive carcinoma right breast and DCIS left breast
Post op (lower photos). Six months post op -bilateral mastectomy (NSM) with immediate single-stage DTI reconstruction