Survivorship Resources
During their active treatment period, breast cancer patients have many questions. Once treatment is finished, there are often a whole new set of concerns. Patients vary in their information needs and their timing, and during this time patients may not be seeing their treatment team as frequently in person, as they were during active treatment. Although patients are provided with information on diet and exercise at the time of diagnosis, this is often understandably put to one side during treatment. As such it can be helpful for all these resources to be available in one place for patients to be able to access at time that is appropriate for them.
Survivorship Challenges
Cancer is often described as a journey that starts at diagnosis. During treatment, some people feel that their life is on hold. After treatment ends, it may be hard to know how to resume normal activities. Survivors may expect life to return to what it was like before the cancer diagnosis. For many people, though, it isn't that simple. The reality is often more emotionally and physically complex. Some cancer survivors find they can't or don't want to go back to how life was before their treatment. Many survivors say that cancer changes them. After treatment, they may feel different, even though they look the same. With time, survivors often find a new way of living. Many call this a 'new normal'. It may take months or years to find a 'new normal'.
The concept of cancer survivorship—moving past a diagnosis of cancer with all that means and back into a life with your "new normal—is fairly new. Even though treatment is finished, many survivors feel a letdown. It is frightening to finish treatment! While you are going through surgery, chemotherapy, or radiation therapy, you are likely supported and surrounded by loved ones not to speak of being in close touch with your medical providers. When that ends you can feel a lot of fear and even a sense of loss.
For most people, their bodies are not the same. Cancer fatigue may continue for years, and studies tell us that a significant number of people are left with chronic medical or emotional concerns following treatment.

Managing the late effects of breast cancer treatment
Even with these advances, many people feel abandoned when active treatment is through. It's like there's an unspoken word which states, "You survived, be happy, now go and have a good life." Not only do many people have no idea what that is supposed to look like, but they are left wondering how they are going to cope with the residual effects of the treatment.
For this reason, cancer survivorship is the newest frontier in managing cancer following treatment. Cancer rehabilitation is now making a difference for many people. If you have finished treatment – or will in the near future – talk to your doctor about the possibility of rehabilitation so that your "new normal" can be a better new normal.
Breast Cancer Prehabilitation / Rehabilitation Programmes
During the cancer journey, two types of assessment may be undertaken:
(1) Prehabilitation "prehab" Assessment Pre-treatment
(2) Rehabilitation "rehab" Assessment early Post-Treatment
Cancer Prehabilitation has been defined as "a process on the cancer continuum of care that occurs between the time of cancer diagnosis and the beginning of acute treatment and includes physical and psychological assessments that establish a baseline functional level, identify impairments, and provide interventions that promote physical and psychological health to reduce the incidence and/or severity of future impairments."
In breast cancer patients in whom surgery is the initial treatment modality, surgery usually takes place very soon after the time of diagnosis, and as such, there is little time for "prehab" to take place. In the growing number of women however who are treated with initial drug therapy prior to their surgery, ie neoadjuvant chemotherapy, surgery does not take place for at least 3-6 months, and these women should all be ideally referred for participation in an oncology prehabilitation programme.
The goal of prehabilitation is to prevent or reduce the severity of anticipated treatment-related physical impairments and psychological distress that may cause significant disability. Cancer prehabilitation is the first part of the process of rehabilitation. The evidence suggests that it should occur between the time of diagnosis and the start of acute oncology treatment, and that the intervention of prehabilitation could help the patients maintain a better physical function status compared to those without prehabilitation intervention before surgery. Furthermore, an important point is that the interventions for prehabilitation before active treatment are not only limited to use before cancer treatment begins, but may also continue throughout survivorship.
It has been reported that prehabilitation programs could improve physical and psychological health outcomes and reduce surgical complication, treatment–related morbidity, hospital lengths of stay, hospital readmissions, and overall health care costs.
All breast cancer patients undergoing their treatment at St Vincent's Private East Melbourne are encouraged to participate in the SVPHEM Outpatient Oncology Prehabilitation and Rehabilitation Programmes. At our East Melbourne Day Therapies Unit we run programmes designed to provide individualised exercise therapy and practical ways to help improve and manage your condition and maximise the potential for recovery.
What we offer:
Comprehensive physiotherapy assessment including individualised exercise prescription for before, during or after treatment.
Lymphoedema screening.
Dietitian services to manage nutritional needs before, during and after treatment.
Occupational therapy to assist with increasing independence and returning to everyday activities at home and in the community, including a focus on fatigue management and return to work strategies.
Psychology education and strategies to help you cope with cancer including stress management and how to use relaxation and positivity to improve wellbeing.
Liaison and consultation with external supports for ongoing care and rehabilitation.
Group programmes which include individualised exercise for strengthening and fitness and education sessions on common cancer related concerns, including physical activity, nutrition, fatigue management, emotional wellbeing and sleep.

St Vincent's Private Hospital East Melbourne Oncology Day Therapy Rehabilitation

Rehabilitation

Prehabilitation
General References

Lifestyle modifications for patients with breast cancer to improve prognosis and optimize overall health

American Society of Clinical Oncology Position Statement on Obesity and Cancer
Survivorship

Living Well After Cancer

Healthy Living After Cancer

Life after breast cancer

Survivorship care after breast cancer

Cancer Survivorship

Facing Forward -Life After Cancer Treatment

What's Next? -A Young Woman's Post-Treatment Navigator

Breast Cancer Survivorship
Exercise in Cancer Care
Clinical research has established exercise as a safe and effective intervention to counteract many of the adverse physical and psychological effects of cancer and its treatment. To date, the strongest evidence exists for improving physical function (including aerobic fitness, muscular strength and functional ability), attenuating cancer-related fatigue, alleviating psychological distress and improving quality of life across multiple general health and cancer- specific domains. Emerging evidence highlights that regular exercise before, during and following cancer treatment decreases the severity of other adverse side effects and is associated with reduced risk of developing new cancers and comorbid conditions such as cardiovascular disease, diabetes and osteoporosis. Moreover, epidemiological research suggests that being physically active provides a protective effect against cancer recurrence, cancer-specific mortality and all-cause mortality.
The convincing body of epidemiological and clinical trial evidence on the benefits of exercise has led to the endorsement of exercise guidelines for people with cancer by major organisations internationally. These guidelines largely mirror guidelines for the general population. Despite this advice being widely disseminated by government and non-government cancer organisations, the majority of Australians with cancer do not meet these recommended targets. Reports indicate that 60-70% of people with cancer do not meet aerobic exercise guidelines and it is estimated that 80-90% do not meet resistance exercise guidelines. Thus, although many people with cancer have indicated a desire to participate in appropriately designed and supervised exercise programs, only a minority are engaging in sufficient levels of exercise.
The Clinical Oncology Society of Australia (COSA) position statement on exercise in cancer care outlines the society's position on exercise recommendations: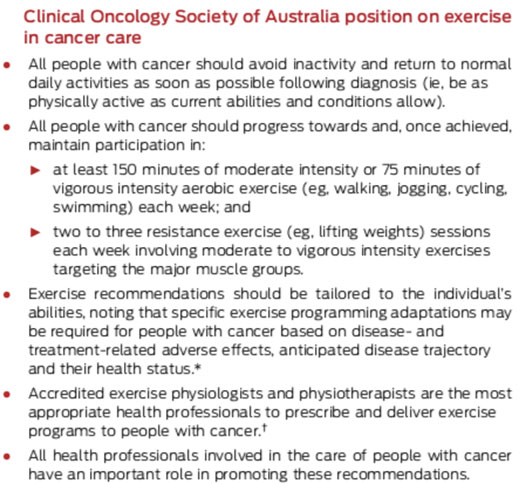 Clinical Oncology Society of Australia position statement on exercise in cancer care

The Exercise and Sports Science Australia position statement: Exercise medicine in cancer management

Exercise Is Medicine in Oncology: Engaging Clinicians to Help Patients Move Through Cancer

COSA Position Statement
EX-MED
EX-MED Cancer is a best-practice exercise medicine program providing individualised exercise prescriptions to people with cancer.
"If the effects of exercise could be encapsulated in a pill it would be prescribed to every person with cancer. Even if this pill had just a fraction of the positive health benefits exercise provides it would be viewed as a miracle drug in the fight against cancer."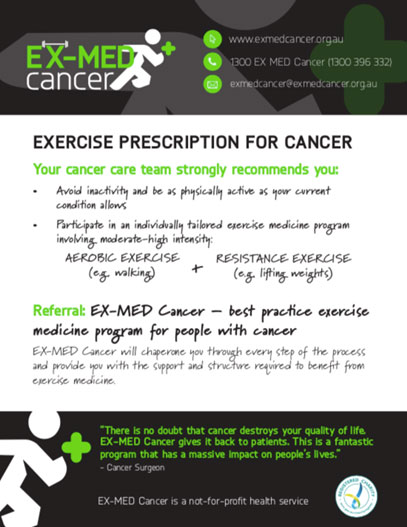 Years of scientific research has established exercise as an invaluable medicine in the management of cancer. Evidence based guidelines recommend all people with cancer exercise regularly to help tolerate and recover from cancer treatments.
Research shows that people with cancer who exercise regularly have a lower relative risk of dying from cancer, a lower relative risk of cancer recurrence and they experience fewer and/or less severe treatment-related adverse effects.
EX-MED Cancer incorporates a coordinated pathway of care between cancer specialists, general practitioners and exercise physiologists within the treatment plan of people with cancer. EX-MED Cancer is a 4-month exercise medicine program designed for people with cancer based on the latest scientific advances. Patients receive an individually prescribed specifically tailored exercise medicine program. You and will be exercising with a small group of other cancer patients at a fitness centre close to your home or work, supervised by qualified exercise physiologists who specialise in exercise for people with cancer.
EX-MED Cancer is an Australian Charities and Not-for-profit Commission registered not-for-profit organisation. See: https://www.exmedcancer.org.au

EX-MED Cancer Patient Flyers

EX-MED Cancer for Health Professionals
Exercise and Physical Activity in Breast Cancer Survivors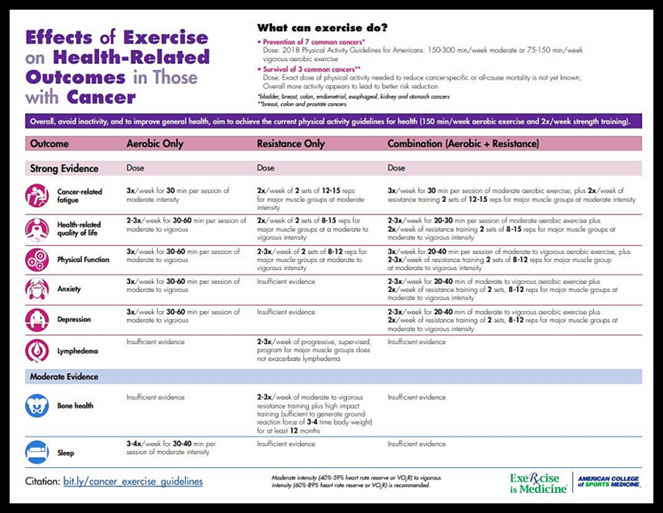 Exercise for People Living with Cancer

Diet, Nutrition, Physical Activity and Breast Cancer Survivors

Exercise and Breast Cancer

Physical Activity and Cancer

Know Your METS: Using Exercise to Reduce Your Risk of Developing Breast Cancer or Experiencing a Breast Cancer Recurrence

Guidelines for implementing exercise programs for cancer patients
Diet and Nutrition Following Breast Cancer
See Body Weight and Breast Cancer

Weight before and after a diagnosis of breast cancer or ductal carcinoma in situ: a national Australian survey

Nutrition and Lifestyle after Breast Cancer

Healthy Eating and Breast Cancer

Diet and Breast Cancer

Nutrition and Cancer

Managing Your Weight After A Cancer Diagnosis

Managing weight gain after cancer treatment

Obesity and Cancer

American Society of Clinical Oncology Position Statement on Obesity and Cancer

Diet, Nutrition, Physical Activity and Breast Cancer Survivors
Breast Cancer and Bone Health

Bone Health and Breast Cancer

Bone Health and Breast Cancer

Vitamin D and Breast Cancer

Osteoporosis and breast cancer treatment

What you need to know about Osteoporosis

Medicines

Vitamin D

Calcium

Excercise

Breast Cancer and Bone Health
Breast Cancer and Sexuality

Breast Cancer and Sexual Wellbeing

Your Body, Intimacy and Sex

Sexuality, Intimacy and Cancer
Breast Cancer and Mental Health

Anxiety, Depression and Breast Cancer

Fear of Cancer Recurrence

Depression and Breast Cancer

GP Mental Health Treatment Plan
Lymphoedema

Lymphoedema

Lymphoedema-What you need to know

Lymphoedema Fact sheet

Understanding Lymphoedema

Living with Lymphoedema

Reducing the Risk of Lymphoedema

Understanding Lymphoedema -A guide for people affected by cancer

The Diagnosis and Treatment of Lymphedema

Lymphedema Risk Reduction Practices

Screening and Early Detection of Breast Cancer- Related Lymphedema: The Imperative

Exercise

Air Travel
Managing Menopausal Symptoms After Breast Cancer

Managing Menopausal Symptoms After Breast Cancer

Menopause and Breast Cancer

Menopause After Breast Cancer

Menopausal Symptoms and Breast Cancer

Treating Hot Flushes: An Alternative to Menopausal Hormone Therapy

Managing Your Menopause After Breast Cancer

Breast Cancer and Early Menopause

Breast Cancer and Menopause

Early Menopause due to Chemotherapy and Radiotherapy

Lifestyle and behavioural modifications for menopausal symptoms

Non-hormonal Treatments for Menopausal Symptoms

Understanding Menopause-Advice for Women who are receiving hormonal therapy for breast cancer

Hot Flushes- Advice for Women who are receiving hormonal therapy for breast cancer

Vaginal Health After Breast Cancer

Management of Menopause in the Breast Cancer Patient
Travel Insurance

Travel Insurance after Early Breast Cancer

Travel Insurance and Cancer
---
You will need the Adobe Reader to view and print these documents.