Poor Cosmesis Following Lumpectomy
IMPORTANT-PLEASE NOTE:
NONE OF THE IMAGES ON THIS WEBSITE ARE OF ACTUAL PATIENTS OF JANE O'BRIEN
THE IMAGES ARE PROVIDED FOR YOUR INFORMATION AS EXAMPLES ONLY
ALL IMAGES IN THE PHOTO GALLERY HAVE BEEN SOURCED FROM THE PUBLIC DOMAIN
JANE O'BRIEN FEELS THAT OUT OF RESPECT FOR HER PATENTS, PRE AND POST OP PHOTOS ARE MOST APPROPRIATELY SHARED IN AN OFFICE CONSULTATION AND NOT ON THE INTERNET. SHE IS HAPPY IF APPROPRIATE TO REVIEW RELEVANT DE-IDENTIFIED PRE AND POST OPERATIVE PHOTOS OF HER OWN PATIENTS IN THE PRIVACY OF HER OFFICE WHEN YOU MEET WITH HER
No one would dispute that the oncological (cancer related) aspects of breast cancer surgery are always of absolute paramount importance. The primary aim of breast conservation surgery, as opposed to mastectomy, is however aesthetic; preserving as much of the breast as possible, thereby retaining normal breast sensation, movement and feeling, and thus contributing positively to body image and self esteem. Otherwise we would still be performing mastectomies on everyone.
It cannot however be overemphasized that having a lumpectomy per se does not guarantee a good cosmetic result. Tumour resection can produce distortion, retraction, and noticeable volume changes in the breast. There may be combination of a concave deformity, a misshapen breast, skin puckering, poor scars and nipple-areolar displacement. There may be difficulty in getting bras to fit comfortably and marked visible asymmetry. Breast conservation is thus not always automatically a cosmetically superior option, and there is certainly an ill defined point at which the cosmetic result of breast conserving surgery is so poor that a woman may be better served by mastectomy +/- breast reconstruction. It is the responsibility of the breast surgeon to inform the woman of all of these possibilities.
Lower Breast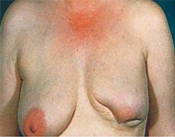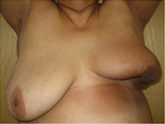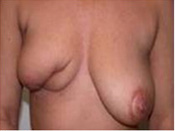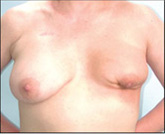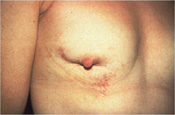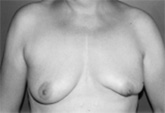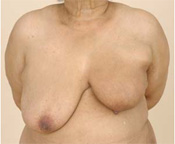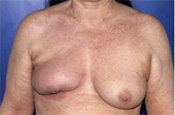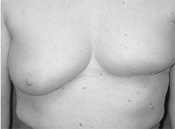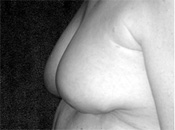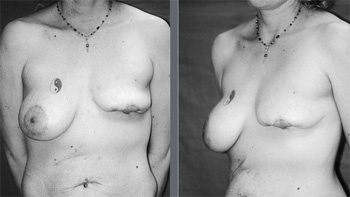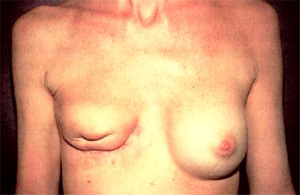 Studies unfortunately indicate that up to one third of women are dissatisfied with the cosmetic result following lumpectomy and radiotherapy. Aesthetic Surgery Journal, 2008. Two main factors predict poor cosmetic outcome: the proportion of tissue resected from the breast, and the position of the tumour in the breast.
When the tumour is located in the lower or inner parts of the breast, as many as 50% of patients have a cosmetically unacceptable result with breast conserving surgery. Studies have demonstrated that excision of more than 10-20% of the breast volume, without some form of "oncoplastic" reconstruction, is likely to lead to an unsatisfactory cosmetic result. Cosmesis may be adversely affected when the percentage of breast volume excised is greater than 5% for tumours of the inner breast, but not until it exceeds 15% for tumours of the outer breast. The likelihood of a patient developing an unacceptable cosmetic deformity escalates when more than 20% of the breast parenchyma is excised.
There are other possible factors related to aesthetic failure. Radiation can have a profound effect on the native breast. Initially, radiation causes generalized breast oedema (swelling) and skin erythema (redness). Long-term effects of radiation to the breast skin include increased or decreased pigmentation, telangiectasia, and atrophy (wasting/shrinkage). In the breast parenchyma, radiation causes fibrosis and retraction. For most patients, radiation- induced changes plateau 1 to 3 years after treatment. Unfortunately, it is difficult to predict who will develop the most severe post radiation changes.
Some of the other factors related to unsatisfactory cosmetic results are directly related to surgical technique, the choice of operation (ie attempting lumpectomy when the volume of breast tissue requiring removal is such that mastectomy +/- breast reconstruction is a more appropriate option) and the failure to utilise "oncoplastic" techniques. There is an ill defined point at which the cosmetic result of breast conserving surgery is so poor that a woman may be better served by mastectomy +/- breast reconstruction.
Surgeons vary enormously in the degree of importance they place on the final cosmetic result of breast conserving surgery (lumpectomy) and the photos below, all showing poor cosmetic results following breast conserving surgery, are yet another reminder of the importance of choosing your breast surgeon very carefully.
One of the reasons for inferior cosmesis after wide local excision is the insufficient remodelling performed at the time of surgery. The "standard" lumpectomy cavity fills with fluid (seroma) postoperatively and may produce an initially acceptable cosmetic result in the short term, although major deformities are often seen on longer follow-up. These results often become considerably worse with post-operative radiotherapy. It is accepted that these deformities are usually best corrected at the time of original surgery for breast cancer excision. This is because it is more difficult to later correct a deformity, especially after radiotherapy to the breast, and the results of secondary corrective surgery are often disappointing – "Prevention is better than Cure".
Unsatisfactory cosmetic results such as those pictured below can be minimised by careful attention to operative choice and the selective use of "oncoplastic" techniques. These options do need to be considered at the time of diagnosis . Making decisions about treatment for breast cancer can be stressful and confusing and patients are understandably upset by the unexpected news that they have cancer and often feel a sense of urgency in getting rid of the tumour. Some women even report being made to feel vain, as if they are trivialising their cancer treatment, when asking their surgeon about how the breast will look, which is inappropriate. Modern breast cancer treatment means that there is often more than one option for treating a particular situation. There is no rush to make decisions – taking a few days to discuss treatment options and to think about your decisions is perfectly fine. The cancer will not change significantly even over a period of several weeks.
Sometimes despite the best surgical efforts, the unpredictable degrees of fibrosis and shrinkage that can be associated with post operative radiotherapy, still render the final cosmetic result suboptimal, and again in this situation, it is best to be under the care of a breast surgeon who places an emphasis on cosmesis, as onward referral to a plastic and reconstructive surgeon for consideration of secondary reconstruction will be facilitated.
Lower Outer Breast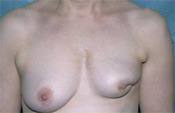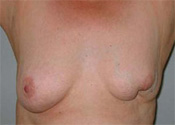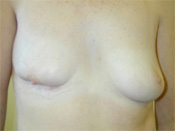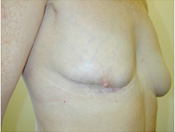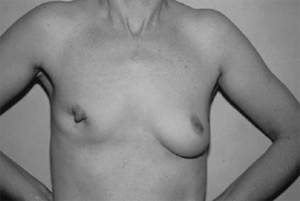 Inner Breast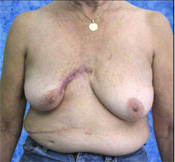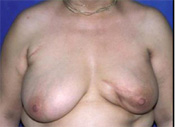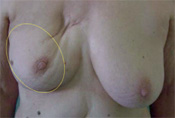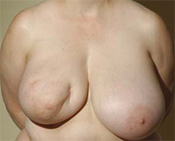 Outer Breast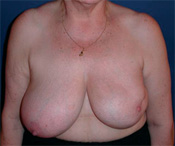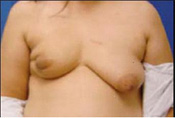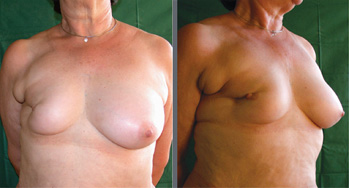 Upper Breast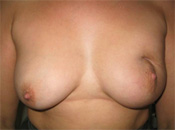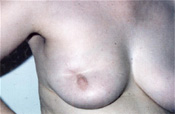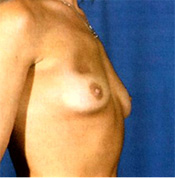 Upper Outer Breast