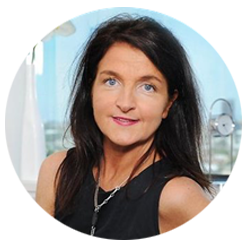 Jane O'Brien
MB.BS FRACSSpecialist Oncoplastic Breast Cancer Surgeon
Jane O'Brien is a specialist oncoplastic breast cancer surgeon who specialises in surgery for breast cancer and prophylactic/preventive surgery for high risk individuals.
Her area of special interest is in "oncoplastic" breast surgery, aimed at maximising the cosmetic result following breast conservation surgery for breast cancer using advanced surgical techniques, and nipple-sparing mastectomy and
reconstruction, both in the preventive setting and as treatment for cancer.
Read More
Current News
Newsletter Winter 2020

ATTENTION ALL BREAST CENTRE PATIENTS

BREAST CENTRE COVID 19 UPDATE

21.5.2020

In line with the recent government announcement permitting the staged relaxation of surgical restrictions, from the end of this month, we are going to gradually recommence face-to-face, in office consultations for patients who attend
for routine surveillance as part of their follow up after treatment for early breast cancer or for high risk screening.
Patients who are due for their routine follow up will receive a recall letter in the mail with information regarding the booking of the appointment and imaging as appropriate. We plan to proceed cautiously, and will not be taking bookings
in advance for routine reviews, other than from those who have received a recent recall letter from us, in case restrictions need to be reintroduced.
Please Note: The purpose of routine surgical surveillance following treatment for early breast cancer is in order to check for local recurrence. With the modern treatment of breast cancer, the incidence of local recurrence is less
than 1% per annum, and as such patients can be reassured that more than 99% will not experience a local recurrence in any given year.
The majority of local recurrences following breast conserving surgery are detected on breast imaging, and we have been encouraging women to continue to attend for their routine annual surveillance imaging throughout the pandemic. Local
recurrences following mastectomy, with or without immediate reconstruction, are even less common than after lumpectomy, and the majority are detected by the patient themselves as a palpable nodule.
Asymptomatic patients with non-suspicious breast imaging who this year because of a situation out of our control, have missed out on their annual surgical clinical breast review can therefore be reassured that the likelihood of coming
to harm is remote.
Regular updates will continue to be posted on this website and on our social media channels ( facebook.com/DrJaneOBrien and instagram.com/DrJane O Brien)
PLEASE NOTE:
As Jane O'Brien's practice has evolved over the years, the focus has increasingly been on surgery for breast cancer, and prophylactic/preventive surgery for high risk individuals, and there is currently extremely limited capacity to take on new
patients with benign breast conditions. Urgent appointments are set aside in all consulting sessions to accommodate patients with a confirmed or strongly suspected diagnosis of breast cancer in a timely fashion, however unfortunately the capacity
to routinely offer appointments to new patients who have symptoms and imaging which is not suspicious of breast cancer is very limited.
The Breast Centre at St Vincent's Private Hospital East Melbourne
Specialist Oncoplastic Breast Cancer Surgeon
Fewer than 9% of Australian surgeons are female, and The Breast Centre at St Vincent's Private Hospital East Melbourne is therefore very fortunate and proud to be able to offer our breast patients the expertise of a highly trained and extremely
experienced female specialist breast and oncoplastic surgeon, with extensive international training and experience.
This website is not intended to provide exhaustive and detailed medical literature all of which can be found on the many high quality recommended breast cancer websites. It is hoped that it provides useful information and assistance on how to
make informed decisions on some of the less widely covered practical aspects of breast cancer care, including what issues to consider when choosing your breast surgeon.