New Initiatives
Breast Cancer Patient Information USB Bracelets
There is an enormous volume of high quality written information and educational material available to breast cancer patients, which can become quite heavy and bulky to transport on repeated visits to the hospital, yet it is commonly during treatment sessions such as chemotherapy that many women wish to take the opportunity to view this information.

To improve ease of access to these resources for our breast cancer patients, we have introduced 2GB USB memory stick silicone bracelets (pictured), allowing us to load electronic versions of the appropriate patient resources including DVDs, in a tailormade fashion for each individual patient depending on her specific information needs. We can also as appropriate load electronic copies of patients' imaging and pathology reports onto their personal USB bracelets.

A patient will now be able to carry all her breast cancer information around simply by popping on her pink bracelet!
The new Medical Oncology Day Unit here at Epworth Richmond, which is part of the major redevelopment project, has recently opened. The purpose built unit provides state of the art facilities for our breast cancer patients undergoing chemotherapy. It has spectacular views, an outdoor terrace balcony (pictured below during construction) for the use of patients and their families, WiFi, Foxtel and offers educational and holistic patient support programmes.

Each chemotherapy chair in the day oncology unit has a personal computer/TV monitor, and breast cancer patients can plug in their USB bracelets to view information during treatment sessions.

Breast cancer patients are some of today's most proactive healthcare consumers. Women with breast cancer repeatedly report a desire to be well informed, and in modern times, information provision is multimedia. For women diagnosed with breast cancer, timely, accurate and relevant information is a must. Difficult treatment decisions often need to be made and various options considered within a relatively short time-frame, sometimes when the trauma of diagnosis is still present.
There is currently an abundance of breast cancer information available to the consumer. The materials originate from various government institutions, cancer councils, private organisations, and literally thousands of websites. If anything, perhaps there is too much information, too much to read, and too much to absorb. The consumer does not know which is 'authoritative' and current information. Furthermore, questions need to be asked like, 'how relevant is all this information and how adequately does it address the information needs of the particular individual?' The vast majority of materials, both in print and on-line, simply treats each woman with breast cancer as part of a uniform, 'one size fits all' group. Many women feel so overwhelmed at the time of diagnosis, that the handing over of a 'wad of information' at that stage may prove counterproductive.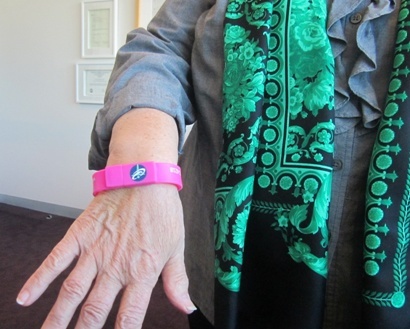 Patient wearing USB bracelet
The benefits of good quality patient information are firmly established. Adequately informed patients, who share decision-making with their medical team, have been shown to have greater autonomy and physical well-being and providing higher levels of information and involving patients in their own treatment decisions has actually been shown to have a protective effect on patients' well-being. Patients offered higher levels of information also tend to have improved compliance, and significantly reduced anxiety and depression. In both randomized and prospective observational studies patients who were offered higher levels of information were significantly more satisfied and had better psychological adjustment to their illness.
Our USB bracelets allow us to address and customise the constantly changing information needs of each individual woman as she proceeds along the breast cancer trajectory, providing appropriate, individualised material in a staged, tailormade fashion.
Stress Balls
To help lymphatic flow, squeezing a soft ball in the hand is often useful after breast cancer surgery, in which some of the lymph glands under the arm are removed. Many lymphoedema practitioners suggest a good way to do this is to use a 'stress' ball, and our pink "Epworth Breast Service" stress balls are ideal for this purpose.