Multidisiplinary Breast Cancer Care
Treatment and supportive care for women with breast cancer involves a number of different medical and allied health care professionals. Evidence indicates that a team approach to cancer care, in which health care professionals together consider all relevant treatment options and develop an individual treatment plan for each patient, can reduce mortality and improve quality of life for the patient. Such an integrated approach to health care is known as multidisciplinary care (MDC).There is evidence that decisions made by a multidisciplinary team are more likely to be in accord with evidence-based guidelines than those made by individual clinicians.
A large body of international research evidence supports the view that health outcomes for breast cancer can be maximised through a specialist multidisciplinary team approach to treatment and ongoing care. This evidence suggests that an organised approach by a specialised team of clinicians who communicate well with each other benefits the patient. The diagnosis and treatment of breast cancer is complex and involves balancing the needs of the patient, the options available based on the presenting stage of the disease, and considerations such as logistics, complications of therapy and treatment outcomes.
Breast cancer is now recognised as a condition requiring a coordinated approach by a team of health professionals. Rather than being treated by a surgeon or oncologist alone, breast cancer is increasingly being treated by a multidisciplinary team, often consisting of a surgeon, radiation oncologist, medical oncologist, pathologist, radiologist, breast care nurse and allied health professionals. The team may also include a counsellor, psychologist, plastic and reconstructive surgeon, fertility specialist, and geneticist. The general practitioner plays a crucial role in supporting and educating the patient, and helping negotiate the health care system. The GP can also provide unique insight into the likely impact of the illness on the patient in the context of her individual medical and psychosocial situation.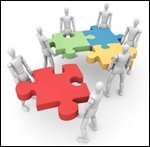 Multidisciplinary care (MDC) is defined as "an integrated team approach to health care in which medical and allied health care professionals consider all relevant treatment options and develop collaboratively an individual treatment plan for each patient"
MDC is about all relevant health professionals discussing options and making joint decisions about treatment and supportive care plans, taking into account the personal preferences of the patient. There is increasing evidence that MDC improves patient outcomes. The benefits of adopting a multidisciplinary approach include:
improved patient care through the development of an agreed treatment plan
provision of best practice through the adoption of evidence-based guidelines
improved patient satisfaction with treatment
improved mental well-being of health professionals
streamlining treatment pathways
reduction in duplication of services
improved access to possible clinical trials of new therapies
increasing the timeliness of appropriate consultation and surgery and a shorter timeframe from diagnosis to treatment.

Multidisciplinary Team
Why is multidisciplinary care important?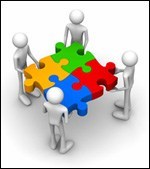 MDC is a key mechanism for ensuring that all relevant disciplines contribute to decisions about the care of patients with cancer. Evidence indicates that a team approach to cancer care can reduce mortality and improve quality of life for the patient. There is also evidence that decisions made by a multidisciplinary team are more likely to be in accord with evidence-based guidelines than those made by individual clinicians. Furthermore, patient satisfaction with treatment and the mental well-being of clinicians in a multidisciplinary team has been shown to be improved by a multidisciplinary approach to care.
Benefits of Multidisciplinary Care
A study in the USA compared breast cancer treatment recommendations made by a multidisciplinary panel with earlier recommendations made by doctors who were not part of the multidisciplinary clinic. For 43% of women, the treatment recommended by the multidisciplinary panel differed from that recommended by the other physicians. Where differences occurred, the recommendations of the multidisciplinary panel were more likely to be in accord with evidence-based guidelines. Cancer 2001.
Another US study found the time between diagnosis and initiation of treatment was significantly decreased in the multidisciplinary setting. Patient satisfaction also increased significantly as a result of involving the patient and their family/friends when making treatment decisions. Cancer 1997
Management is more likely to be in accordance with evidence-based practice with more patients receiving the recommended treatment regime for their stage. Lancet Oncology 2006. This may be because practitioners need to justify their treatment plan in front of their peers during management sessions. The sharing of knowledge between practitioners can also assist in ensuring equity in available treatment options as health professionals become more familiar with new treatment recommendations and in turn, can offer them to their patients.
There are also improved psychological outcomes for patients under the care of multidisciplinary teams. The mental health of patients is of utmost importance to reduce the impact of cancer and team management facilitates this by fostering patient-centred care. Patients prefer joint decision making relationships with their practitioners and this is the crux of multidisciplinary management. Furthermore, team meetings raise awareness of the psychosocial needs of patients with cancer as well as the range of options available for addressing these. For example, while being cared by a multidisciplinary group, there is an increase in referrals to breast care nurses. Even simply informing the patient about the multidisciplinary review process may be beneficial to their well being . As their treatment plan has been approved by several specialists, much like seeking a second opinion, patients can gain confidence in the basis for their regimen.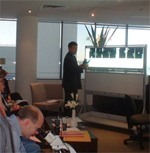 Regular team meetings are an integral component of MDC. A central theme of meetings should be prospective treatment planning. Benefits of regular treatment planning meetings include professional development activities, development of local protocols and discussion of other relevant issues such as resolving service delivery problems. It provides an important opportunity to review cases comprehensively and to discuss the benefits and timing of any further treatment. The optimum timing and sequence of treatments varies from case to case. A personalised plan will be formulated for each situation. The meeting can also be used as a forum to provide a second opinion on treatment options.
Will my case be discussed in a Multidisciplinary Meeting?
Australia presents a challenge for the implementation of MDC, given its geography, the mix of private and public service provision, and significant regional differences in population, resource availability and access.
The surgeon plays a central role both in the development and coordination of the multidisciplinary team as the patient's first contact is likely to be with a surgeon who (with the radiologist and pathologist) establishes the diagnosis, and subsequently provides the initial treatment. It is therefore important that your breast surgeon actively participates in a multidisciplinary team and nominates cases for review in a multidisciplinary meeting. You should check that your breast surgeon regularly attends a multidisciplinary meeting, It is even more important that you confirm this if you are having your treatment in the private sector, as, for a variety of reasons, the introduction of MDC has been slower there than in the public hospital system.
The Australian, United Kingdom and New Zealand clinical guidelines for the management of breast cancer all now recommend the promotion of multidisciplinary care. This is an approach strongly supported by breast cancer consumer groups. Breast Care Network Australia (BCNA) has a position statement on multidisciplinary care, available on their website. www.bcna.org.au/content/view/346/367
Jane O'Brien nominates all her breast cancer patients for discussion in the weekly Epworth Breast Service Multidisciplinary Meeting, where all cases are discussed both prior to and after their breast cancer surgery. (see Patient Fact Sheet Multidisciplinary Breast Cancer Team Meetings )