Appointments
For all appointments and enquiries, please call (03) 9928 6261.
Please print out and complete the Patient Registration Form and fax to us on (03) 9928 6260 or bring completed form with you to your appointment.
Please arrive 15 minutes prior to your appointment.
The Breast Centre at St Vincent's Private Hospital East Melbourne
Suite 92,
Level 9
166 Gipps Street
East Melbourne, VIC 3002
(03) 9928 6261
(03) 9928 6260
Office hours: Monday – Friday 9.00am – 4.30pm.

We are on Facebook

, click here to find out more.
When you come for your appointment please remember to obtain and bring the following:
Referral letter from GP, family physician or other doctor
Medicare card, DVA card, Pension Card
Have your Private Hospital Insurance information with you
Copies of results, x-rays, MRI's. CT scans etc and any other relevant information
If you need to postpone or cancel an Appointment:
Telephone the office during business hours and allow at least 24 hours notice so that we can offer your appointment time to patients on our waiting list.
We recognise that your time is valuable, and we make every effort to run on time. Occasionally emergencies or patients require a little more time, and these cause scheduling delays beyond our control. We apologise if we keep you waiting.
Making Your Appointment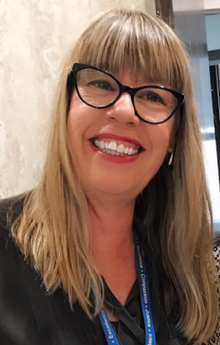 When you call to make your appointment Catriona (pictured) will ask you a few preliminary questions about yourself, your symptoms and any previous investigations you may have had. This is to enable us to not only appropriately prioritise your appointment but also to enable us to arrange any necessary imaging investigations to be performed on the day of your appointment prior to your consultation with Miss O'Brien if indicated. The importance of bringing any previous breast imaging (mammograms/ultrasounds) with you to your appointment will be reinforced. This is especially important if you have had recent breast imaging that shows an abnormality. It may sometimes be necessary to delay your appointment until you are able to obtain your x-rays as they form an essential component of the breast assessment. The xrays MUST be the hard copy films. Electronic images on CD or online are not of sufficient quality/resolution. The aim is to streamline the process as much as possible, minimising unnecessary visits.
Attending Your Appointment
On your first visit, you will be greeted by Catriona, who will collect any referral letters, x-rays, test results or other relevant information and documentation you have brought with you. It is helpful if you can arrive at least 15 minutes prior to your appointment.
A breast clinic is not the ideal place for small children, so we ask that, where possible, other arrangements be made to care for them during your consultation. Consultations are chaperoned by our breast nurses but do not hesitate to bring your partner, spouse or a friend with you.
Your time is valuable and we make every possible effort to run on time. Punctuality is a high priority for this practice. Each patient is given as much time as needed, and as you can imagine, on occasions delays inevitably occur. We apologize in advance if we unavoidably keep you waiting. For subsequent review appointments if it is important for you to get away promptly, it may be a good idea to book your appointment first thing in the morning.
Please bring with you
Medicare card
DVA card (if applicable)
Private health insurance details
Current referral letter. A referral from your GP is usually valid for twelve months, whereas a referral from another specialist is valid for three months. A current referral is needed to be eligible for a Medicare rebate
Any previous mammograms or breast ultrasounds (these are useful for comparison)
Current mammogram and/or ultrasound (if applicable)
A list of current Medications
Test results – e.g. pathology of core biopsy, blood tests (if applicable)
Operation notes plus pathology reports (if applicable)
If you are having imaging before your appointment

On arrival in the radiology department the radiographer will explain the procedures to you. You will be shown to a private cubicle and asked to remove the clothes above your waist (wearing something like a blouse and trousers/skirt is ideal). A hospital gown is provided and you will be asked to place your clothes and any personal items in a basket which you keep with you. You should mention if you are pregnant, have breast implants or are taking anticoagulants (blood-thinning tablets). Regardless of age, an ultrasound scan will usually also be done, and further mammogram views may be required. As each test takes at least 15 minutes, queues can develop.
Updating Records
It is very important that we have your up-to-date address, phone number and email address. In case of an emergency we must be able to contact you. Please make Mary/Catriona aware of any changes.
Cancellations
If you are unable to keep an appointment, we ask that you kindly provide us with at least 24 hours notice. This courtesy on your part, will make it possible to give your appointment to another patient. Cancellations on the day of appointment may incur a cancellation fee.