Directions
Epworth Breast Service
Suite 92,
Level 9
166 Gipps Street
East Melbourne, VIC 3002
Toll Free: 1300 727 850
Directions to Epworth Xray Department
Level 2 bridge Rd Building
Including Mammography, Ultrasound, Ctand Nuclear Medicine
Enter Epworth Hospital main entrance 89 Bridge Rd (pharmacy on your left). This is level 1
Proceed straight ahead
Turn left at florist
Take lift or stairs to level 2
On exiting lift, turn left and Xray department is on your left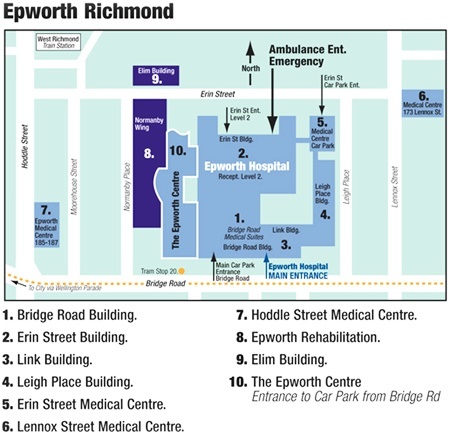 If you are coming up to the Epworth Breast Service after your imaging, we are on level 7 of the Epworth Centre (Suite 7.8). The main entrance to the Epworth Centre is from Erin St (32 Erin St), but the staff in Xray will give you directions on how to reach us from inside the hospital.
Directions to Imaging Departments from Epworth Breast Service
Directions from Epworth Breast Service to Xray Department
Including Mammography, Ultrasound, Ctand Nuclear Medicine
Take the lift from here on the 7th floor down to ground level (G)
On exiting the lift, turn right and go through one set of large double glass doors
Turn right again once through these doors and proceed straight along the corridor
Turn right at the end of the corridor, go past a set of lifts, and go straight through the cafeteria
When you reach the T- intersection (signposted above to Xray Reception), turn left
Directions from Epworth Breast Service to MRI
Take the lift from here on the 7th floor down to ground level (G)
On exiting the lift, turn right and go through one set of large double glass doors
Turn right again once through these doors and proceed straight along the corridor
Turn right at the end of the corridor and there will be a set of lifts on your right
Take these lifts down to level 1
On exiting the lift, go straight ahead and follow the corridor
MRI is on your right (the emergency department is on your left)