Location/Directions
Epworth Breast Service
Suite 92,
Level 9
166 Gipps Street
East Melbourne, VIC 3002
Practice Location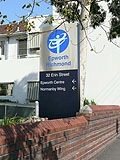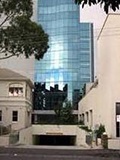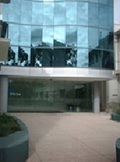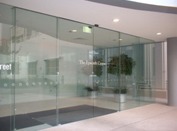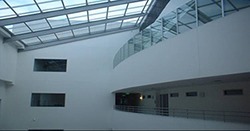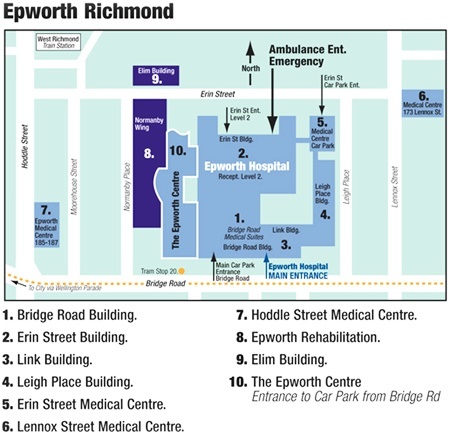 Public Transport and Parking
If you are coming to Epworth Richmond from the city by tram, catch either the North Balwyn 48 tram from Collins Street or the East Burwood /Vermont South 75 tram from Flinders Street and get off at tram stop number 15 in Bridge Rd. By train, the closest station to Epworth Richmond is West Richmond Station, which is on the South Morang and Hurstbridge Lines. Richmond Station is also close to the hospital, which is located on Swan Street and is approximately a 15 minuteswalk from Epworth Richmond.
Epworth Richmond has limited undercover parking. The entrance to the car park is on Bridge Road. Parking is also available in adjacent streets, but please take note of council restrictions. Also be aware that there are times when the car park becomes full, and consequently there will be a limited number of spaces. The car park is open every day from 6.00am to10.45pm.
Car Parking Rates (in hours)
0.0-0.5 $9.00
0.5–1.0 $11.00
1.0–1.5 $15.00
1.5–2.0 $18.00
2.0–2.5 $20.00
2.5–3.0 $23.00
3.0–3.5 $26.00
3.5–4.0 $29.00
4.0–8.0 $31.00
8.0–12.0 $33.00
12.0–24.0 $35.00
Pick Up and Drop Off
Patients may be dropped off or picked up at the Bridge Road hospital entrance or the main rear entrance on Erin Street. Cars can wait at either of these entrances for a maximum of five minutes. Wheelchairs can be obtained from main reception and may be requested by picking up a courtesy phone at the Bridge Road or Erin Street entrances.
Epworth Breast Service Location
The Epworth Breast Service consulting rooms are located on the 7th floor of the Epworth Centre in a modern, purpose-built suite, providing a friendly environment with impressive views over Richmond. The aim is to provide as relaxing an experience as possible under the circumstances with background music, a plasma screen aquarium and current designer magazines. I have attempted to create the sort of environment in which I would myself wish to be seen. Our breast care nurses are based here, and are available to all patients for information, provision of educational resources, assistance with obtaining prostheses, psychosocial support and counselling in a private, dedicated counselling room.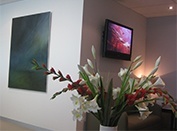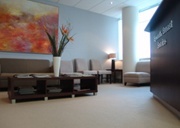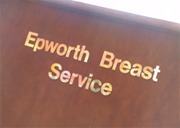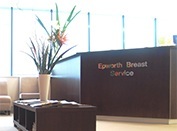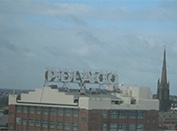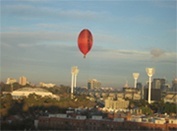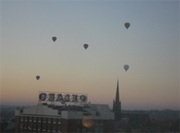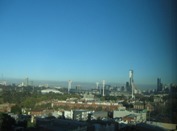 Directions to Epworth Richmond Xray Department
Level 2 Bridge Rd Building
Including Mammography, Ultrasound, CT and Nuclear Medicine
Enter Epworth Hospital main entrance 89 Bridge Rd (pharmacy on your left). This is level 1
Proceed straight ahead
Turn left at lifts
Take lift or stairs to level 2
On exiting lift, turn left and Xray department is on your left
If you are coming up to the Epworth Breast Service after your imaging, we are on level 7 of the Epworth Centre (Suite 7.8). The main entrance to the Epworth Centre is from Erin St (32 Erin St), but the staff in X ray will give you directions on how to reach us from inside the hospital.
Directions to Imaging Departments from Epworth Breast Service
Directions from Epworth Breast Service to Xray Department
Including Mammography, Ultrasound, CT and Nuclear Medicine
Take the lift from here on the 7th floor down to ground level (G)
On exiting the lift, turn right and go through one set of large double glass doors
Turn right again once through these doors and proceed straight along the corridor
Turn right at the end of the corridor, go past a set of lifts, and go straight through the cafeteria
When you reach the T- intersection (signposted above to Xray Reception), turn left
Directions from Epworth Breast Service to MRI Department
Take the lift from here on the 7th floor down to ground level (G)
On exiting the lift, turn right and go through one set of large double glass doors
Turn right again once through these doors and proceed straight along the corridor
Turn right at the end of the corridor and there will be a set of lifts on your right
Take these lifts down to level 1
On exiting the lift, go straight ahead and follow the corridor
MRI is on your right (the emergency department is on your left)