Mini-Field of Women – October 2013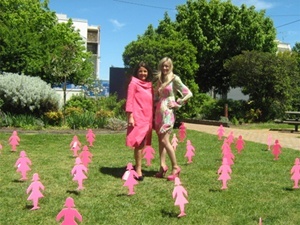 More than a hundred Pink Lady silhouettes were on display on the lawn in Erin Street when the Epworth Breast Service invited the local community to take part in a Mini-field of Women event, as a way of showing their support for women and families affected by breast cancer.
Jane O'Brien addressed the audience on some of the advances that have occurred in the field of breast cancer during her surgical career over the last couple of decades. She spoke of a progressive improvement in survival, with around 90% of women diagnosed with breast cancer, now surviving 5 years, and also about some of the newer surgical techniques. One of Jane's patients also spoke, bravely describing her own journey of survival. The message was one of positivity and optimism.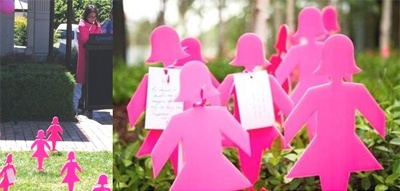 Around 300 Mini-Field of Womenevents are held annually in local communities across Australia. These BCNA events are a great way to link those people affected by breast cancer with their local community.